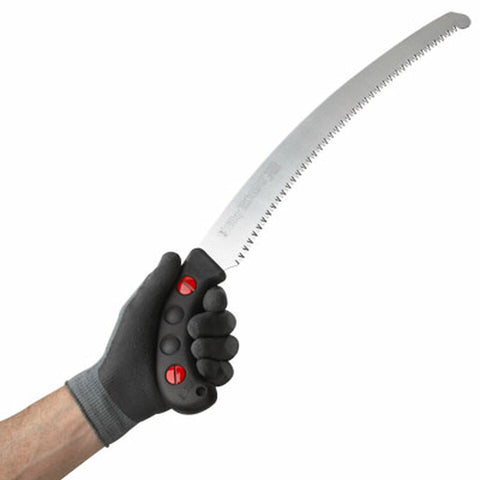 Zubat 13" (330mm) Silky Curved Saw w/ Scabbard - (270-33)
SKU:
270-33
Description:
The Silky Zubat is without question the most popular handsaw in the tree care industry.  Featuring a comfortable and ergonomic handle and a full tang 330mm curved-blade. The scabbard features an efficient roller system to make taking the saw in and out easy, and a locking system that will keep the saw in its place, even when inverted.13-in blade, overall length 18.5-in., 1.1-poundManufactured by Silky Saws Of Japan
*Usually ships in 7 to 14 business days.
Not only is the ZÜBAT Professional Silky's most popular curved pruning saw, it is also the top selling Silky saw across the entire commercial arborist market. Professional tree care companies depend on maximum performance and efficiency and the ZÜBAT Professional is, without question, their tool of choice. This best-selling tool delivers a professional, heavy-duty, mono-constructed blade which provides greater cutting speed with less effort.

The new Zubat Professional utilizes a unique dual roller entry system on the scabbard with a newly designed handle to create an unmatched locking feature which keeps the saw firmly in the scabbard. Offered in four different Blade Lengths, the ZÜBAT Professional combines Silky's proprietary design and ergonomic comfort grip handle, allowing you to cut with precision to save time and money. For any pruning work or to tackle large branches, the ZÜBAT Professional is an exceptional choice. (leg straps sold separately)

ZUBAT is available in five blade lengths: 9-1/2-inch (240 mm), 10-2/3-inch (270 mm), 11-4/5-inch (300 mm), 13-inch (330 mm) and 15-2/5-inch (390 mm).

Technical Features
 
- 13-inch (330 mm) blade length
- 6.5 teeth per inch (7.5 teeth per 30 mm) teeth configuration
- 0.65 pounds (300 grams) operating weight; 1.1 pounds (480 grams) weight with sheath
- Durable black polypropylene sheath with detachable belt holder is included
- Product applications include pruning & trimming, lawn & garden
- Limited lifetime warranty against defects in material and workmanship
Best Sellers
Buckingham's newly designed, patented bucket hook ca...

The Buckingham Economy Linemen Kit was designed for ...
*Orders received by 12:00/Noon EST ship same busines...