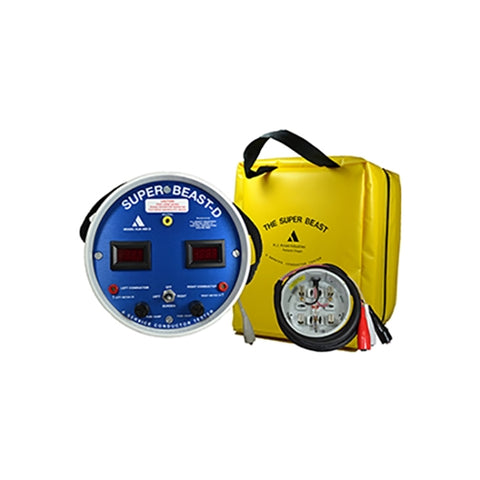 Super Beast Combo Secondary Service Conductor Tester - 98-HJA469DSCO
SKU:
98-HJA469DSCO
Description:
The "Super Beast" secondary service conductor tester indicates problems on secondary service. Detects open neutral quickly, accurately. Isolates and identifies overhead or underground complaints on utility side. Verifies condition of secondary conductors and associated connections.
*Usually ships in 7 to 14 business days.

The best in the business just got better. For more than 30 years, in over 500 electric utilities, the "Super Beast" has saved time and money in determining the condition of secondary services. Within seconds, a troubleshooter can tell if the conductor is open, resistive, or functioning properly - even when temporary or intermittent faults may be masking a deteriorating conductor.

Save with the "Super Combo". The "Super Combo" is a complete "Super Beast" and accessories package at one low price. Includes one "Super Beast", meter base adapter, and carrying case at lower cost than if each item is purchased separately.
Best Sellers
Buckingham's newly designed, patented bucket hook ca...

The Buckingham Economy Linemen Kit was designed for ...
*Orders received by 12:00/Noon EST ship same busines...