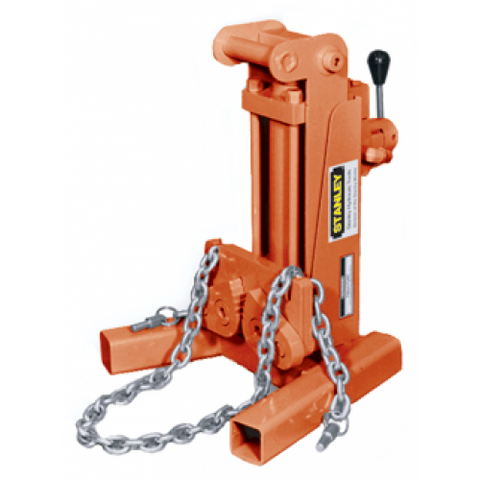 Stanley PP10 Post Puller (79-PP10100)
SKU:
79-PP10100
Description:
*Usually ships within 7 to 14 days.
- PP10 SPECIFICATIONS:
- Application: Pulls a variety of sign and fence posts
- Capacity: Sign posts up to 8 in. / 20 cm Wide
- Hyd. Flow: 3-9 gpm / 11-34 lpm
- Weight: 70 lbs / 32 kg
- Length: 13 in. / 32 cm
- Width 14 in. / 35 cm
- Connection: 3/8 in. flush face quick disconnect couplers
- The PP10 is designed to remove flanged type sign posts and irregularly shaped posts up to 8 in. / 20 cm wide
- It features an 8 inch / 203 cm stroke and pulling force of 9800 lbs / 4450 kg
- The PP10 uses two methods to solve post pulling problems
- For flanged posts, the PP10 uses gripper jaws to grasp the flange
-  For many other posts, a chain is used. Pins on the end of the chain may be inserted into holes in perforated posts to keep the chain from sliding
- A control valve is located on the tool
- The PP10 is furnished with gripper jaws, chain with pins, and flush face quick disconnect couplers
Best Sellers
Buckingham's newly designed, patented bucket hook ca...

The Buckingham Economy Linemen Kit was designed for ...
*Orders received by 12:00/Noon EST ship same busines...