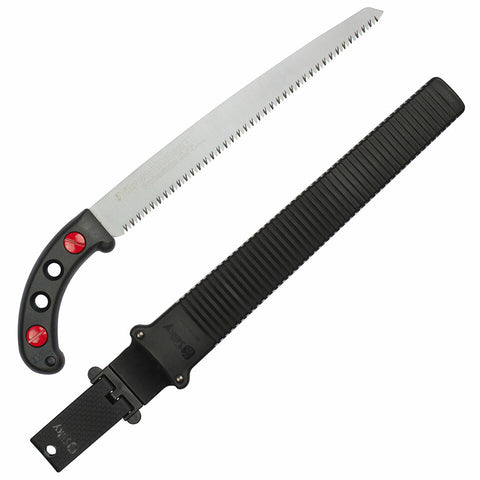 Silky GOMTARO Professional 300 Large Teeth - 102-30
SKU:
102-30
Description:
300mm straight-blade lightweight saw with scabbard. 12-in blade, 17.13-in overall length, 0.85-lbs
*Usually ships in 7 to 14 business days.

Depending on plant selection and the season, the best time to prune may be 'right now.' To get the job done as it should be, the GOMTARO Professional is the hand saw of choice. The GOMTARO Professional utilizes proprietary Silky MIRAI-ME (Smooth Cutting) Technology "The Teeth of the Future," providing high-performance cutting efficiency. The precision-ground, razor sharp teeth, with four cutting angles deliver fast, clean and extremely smooth cutting action. The great combination of a high performance blade with an integrated non-slip cushioned comfort rubber handle really sticks in your hands. A durable black polypropylene sheath with belt clip is included. Exceptional design, strength, balance and superior finish quality makes GOMTARO Professional ideal for all your pruning needs.

GOMTARO is available in two teeth sizes/configurations (tpi - teeth per inch): 7 tpi - Large Teeth and 11 tpi - Fine Teeth, and five blade lengths: 7-inch (180 mm), 8-1/3-inch (210 mm), 9-1/2-inch (240 mm), 10-2/3-inch (270 mm) and 11-4/5-inch (300 mm).

Technical Features

- 11-4/5-inch (300 mm) blade length
- 7 teeth per inch (8 teeth per 30 mm) teeth configuration
- 0.6 pounds (260 grams) operating weight; 0.85 pounds (380 grams) weight with sheath
- Durable black polypropylene sheath with belt clip is included
- Product applications include pruning & trimming, lawn & garden, construction
- Limited lifetime warranty against defects in material and workmanship
Best Sellers
Buckingham's newly designed, patented bucket hook ca...

The Buckingham Economy Linemen Kit was designed for ...
*Orders received by 12:00/Noon EST ship same busines...