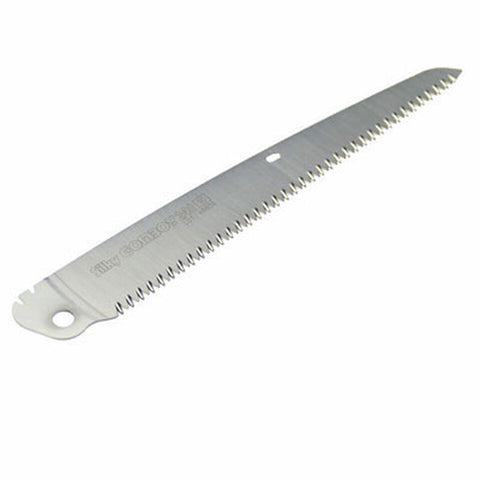 Silky GOMBOY 240mm Medium Teeth - 122-24
SKU:
122-24
Description:
240mm folding saw, 8.5-in blade 19.88-in overall length, 8.5 teeth per inch, .80 lbs
*Usually ships in 7 to 14 business days.

With refined Japanese cutting technology and fitting a myriad of applications, it's not surprising that the GOMBOY Professional is Silky's #1 selling saw worldwide. Precision-ground, impulse-hardened teeth, matched with a premium Japanese handle, the GOMBOY Professional offers superior performance and ergonomics, unmatched by any other same size folding saws on the market. Whether building, woodworking, camping, or regular old work-around-the yard, the GOMBOY Professional offers a saw just for you. Note: 210 mm and 240 mm GOMBOY Professional folding saws each come with their own custom hard plastic storage case.

The Silky GOMBOY handsaw is available in two types: folding blade and fixed blade (GOMBOY-7 series). The blades are interchangeable between GOMBOY types within the same blade length. There are four GOMBOY blade lengths: 8-1/3-inch (210 mm), 9-1/2-inch (240 mm), 10-2/3-inch (270 mm), and 11-4/5-inch (300 mm). Every blade length is available in three teeth sizes/configurations (tpi - teeth per inch): 5-6 tpi - Large/Coarse (pruning, green wood), 8.5 tpi - Medium (soft wood) and 12 tpi - Fine (hard wood).

Technical Features

- 9-1/2-inch (240 mm) blade length
- 8.5 teeth per inch (10 teeth per 30 mm) teeth configuration
- 0.6 pounds (272 grams) operating weight; 0.8 pounds (362 grams) weight with carrying case
- Clear plastic hinged carrying case for storage and carrying is included
- Product applications include pruning & trimming, lawn & garden, construction
- Limited lifetime warranty against defects in material and workmanship
Best Sellers
Buckingham's newly designed, patented bucket hook ca...

The Buckingham Economy Linemen Kit was designed for ...
*Orders received by 12:00/Noon EST ship same busines...