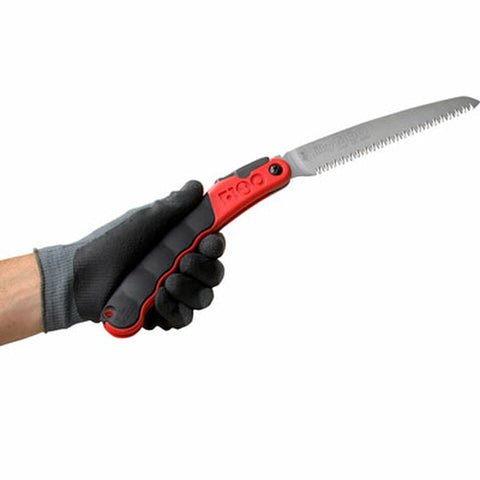 Silky F180 Large Teeth - 143-18
SKU:
143-18
Description:
180mm, folding saw
*Usually ships in 7 to 14 business days.

Consider the F180 Professional folding saw as your 'go-to' saw. It's the cost effective folding saw that is ideal for every pruning task and outdoor project you have in mind. It's also perfect for the home gardener. This lightweight strong folding saw is fit with large or fine teeth on a 7-inch blade. The F180 Professional securely and effortlessly locks in two different angle positions, allowing you to cut quickly through green wood branches and small firewood. Expect to cut with ease as Silky's F180 Professional folding saw is constructed from a lightweight, fiberglass polypropylene with a rubber insert to ensure a comfortable and secure grip. This is the perfect tool that's handy enough to want to keep in your pocket, glove compartment or tool box.
 
F180 is available in two teeth sizes/configurations (tpi - teeth per inch): 6.5 tpi - Large/Coarse (pruning, green wood) and 12 tpi - Fine (hard dry wood). Each F180 has a color-coded handle associated with the teeth configuration: Red - Large teeth and Yellow - Fine teeth.
 
Technical Features
 
- 7-inch (180 mm) blade length
- 6.5 teeth per inch (7.5 teeth per 30 mm) teeth configuration
- 0.4 pounds (180 grams) weight
- Comes in a blister pack
- Product applications include pruning & trimming, lawn & garden, hunting & outdoors
- Limited lifetime warranty against defects in material and workmanship
Best Sellers
Buckingham's newly designed, patented bucket hook ca...

The Buckingham Economy Linemen Kit was designed for ...
*Orders received by 12:00/Noon EST ship same busines...