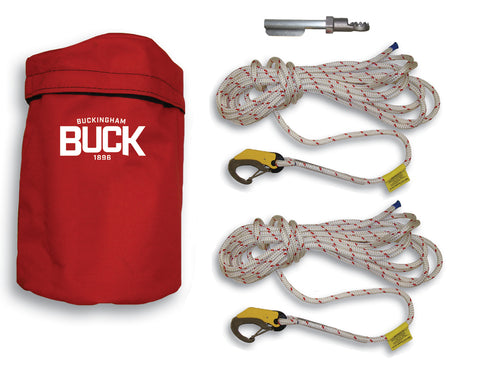 Rescue Line Kit - 39SAM13Q9-30
SKU:
39SAM13Q9-30
Description:
Rescue Line Kit includes two 30 rescue lines, a Model 40 telescopic pole adaptor, and a rope bag.
*Product usually ships in 7-14 business days.

Specifications:
Product Name:
Rescue Lifeline Kit
Product Number:
39SAM13Q9-30
 
 
Bag
Product Name:
Tool Bag
Product Number:
4562R
Length:
10″
Width:
8″
Weight:
0.5 lbs.
Number of Pockets:
0
Material:
Nylon
Closure Type:
Drawstring w/ Rain Flap
Accessory Ring:
Yes
Carry Strap:
Yes
Made in the USA?:
Yes
 
 
Lifeline
Length:
30′
Material:
3/8″ Amsteel Rope
Connector Type:
1706 steel locking snaphook
Ascender:
No
Hitch Pin Clip:
No
Shackle:
No
Quicklink:
No
Pole Adaptor:
Yes
Made in the USA?:
Yes
 
 
Kit Weight:
4.2 lbs. 
Instructions & Warnings:
Retrieval Line Instructions
Best Sellers
Buckingham's newly designed, patented bucket hook ca...

The Buckingham Economy Linemen Kit was designed for ...
*Orders received by 12:00/Noon EST ship same busines...