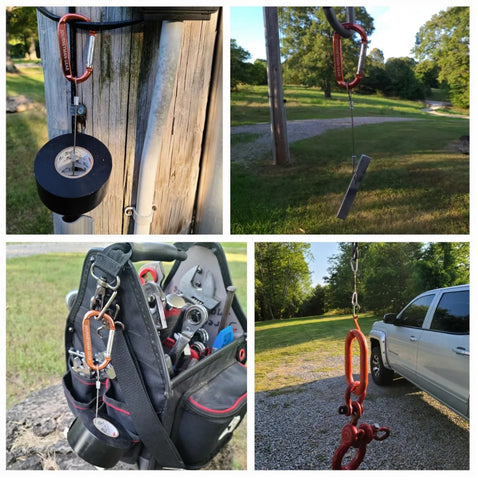 Quickdraw by Journeyman Gear - QD2003
SKU:
QD2003
Description:
A neat little gadget that every hand on the jobsite needs hanging from their belts, toolbags or up in the bucket. We made our first run of these a few months ago to test out in the field and every lineman in the yard had to have one. 
Specifically designed to be a single handed operation to remove and replace rolls of tape. This is possible due to the precisely drilled off center hole in the bottom plate, once a roll of tape is either lifted upward or removed it will tilt just enough for the roll to slide on/off one handed with ease. 
 It is made out of stainless steel cable and 1/4" thick aluminum plate which can take a beating from job to job, storm to storm, and still be by your side. To back that up we performed a multi-week 155lb vertical load weight test on the cable and crimps we used on this tool without failure. A light duty carabiner is included with each one as well.  To go a step further we also polished each aluminum plate to ensure no sharp edges could wear holes in any clothing or gear. We all know how hard it is to keep up with a roll of tape, much less having to pull off your gloves just to dig it out of your pants pockets 50x a day. The QuickDraw puts an end to both of these daily issues
Product usually ships in 7-14 days.
Best Sellers
Buckingham's newly designed, patented bucket hook ca...

The Buckingham Economy Linemen Kit was designed for ...
*Orders received by 12:00/Noon EST ship same busines...