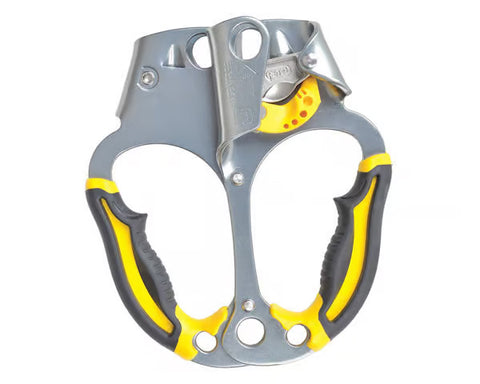 PETZL ASCENTREE Double-Handled Ascender Rope Clamp - 223679
SKU:
223679
Description:
*Product usually ships in 7-14 business days.
Features:
This piece of equipment is designed for ascending double ropes in trees using the "footlock" technique or with Pantin foot ascenders.
Its ergonomic molded handles allows a comfortable yet powerful grip while its toothed cam with self-cleaning slot optimizes performance under any conditions (e.g. frozen or dirty ropes).
Catch/cam combination is totally integrated into the body of the rope clamp to prevent rubbing. The large handles can be used with thick gloves.
The Ascentree features lower holes for connecting a lanyard and upper holes through which a carabiner attaches the device to the rope (useful for back-up belays or hauling).
Best Sellers
Buckingham's newly designed, patented bucket hook ca...

The Buckingham Economy Linemen Kit was designed for ...
*Orders received by 12:00/Noon EST ship same busines...