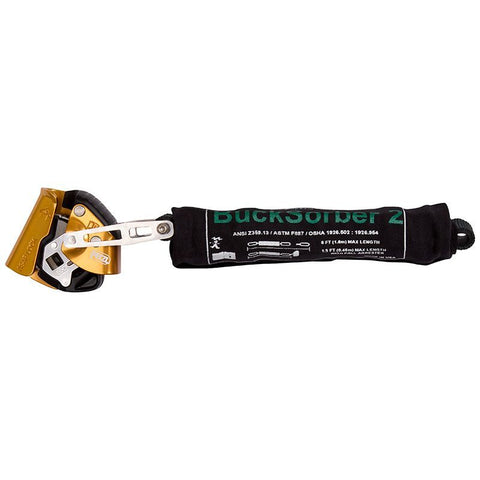 Mobile Fall Arrestor Lock with BuckSorber2 - 5004L4
SKU:
5004L4
Description:
Designed to facilitate manipulations during rope ascents. Used in conjunction with a BuckSorber™2 to work at a distance from the rope. The connection arm makes the system loss-resistant when passing intermediate anchors.
A carabiner is not included. Order 5555S4 for connection use.
**Usually ships within 7 - 14 days. 

The Mobile Fall Arrestor locks on the rope and stops the user. The integrated locking function allows users to immobilize the device to reduce the length of fall. Moves freely along the rope without any manual intervention. To be used with the BuckSorber™ 2.
Product Number:
5004L4
Product Name: 
Mobile Fall Arrestor Lock w/ BUCKSORBER2™
5004L1
ASAP Lock
Length:
5.51 in
Width:
3.74 in
Weight:
1.14 lbs
Designed For:
Vertical or Angled Rope, 10-13 mm
Material:
Aluminum, Stainless Steel & Nylon
400000X12
BUCKSORBER2™
Material:
Navajo / Kevlar
Closure Type: 
Hook & Loop
User Weight Rating:
350 lbs. fully equipped
2 Person Load Rating:
620 lbs.
Max Length:
6
Max Length w/ Fall Arrester:
1.5
Standards:
Meets or exceeds all applicable requirements of ANSI Z359.13 – 6ft and 12ft free fall, ASTM F887 standards OSHA 1926.502 and 1926.954 regulations.
Made in the USA:
Yes
Best Sellers
Buckingham's newly designed, patented bucket hook ca...

The Buckingham Economy Linemen Kit was designed for ...
*Orders received by 12:00/Noon EST ship same busines...