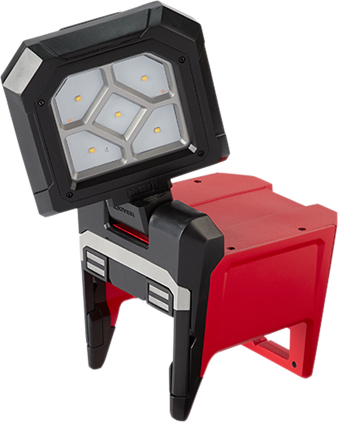 Milwaukee M18 Rover Flood Light - (89-2365-20)
SKU:
89-2365-20
Description:
Our M18™ ROVER™ Mounting Flood Light is the most versatile flood light for any task, designed to work in any workspace, jobsite, and on any surface. The food light has two powerful magnets that allow you to mount the light onto almost any metal surface and a 2" spring-loaded clamp to fix the light to piping, dimensional lumber, jobsite equipment, cabinetry, and doors. These hanging features are paired with a folding and rotating light head design allowing you to direct the light to any workspace. The M18™ ROVER™ Mounting Flood Light delivers 1500 lumens of TRUEVIEW™ High Definition Output and runs up to 20 hours with an M18™ XC5.0 battery pack giving you a powerful flood spread and all day run-time. It is impact-resistant, capable of surviving a 9 ft. drop and is backed by a limited lifetime warranty, the LEDs never need to be replaced. ROVER™ Flood Lights are built to go anywhere and withstand anything.
*Usually ships in 7 to 14 days.
Best Sellers
Buckingham's newly designed, patented bucket hook ca...

The Buckingham Economy Linemen Kit was designed for ...
*Orders received by 12:00/Noon EST ship same busines...