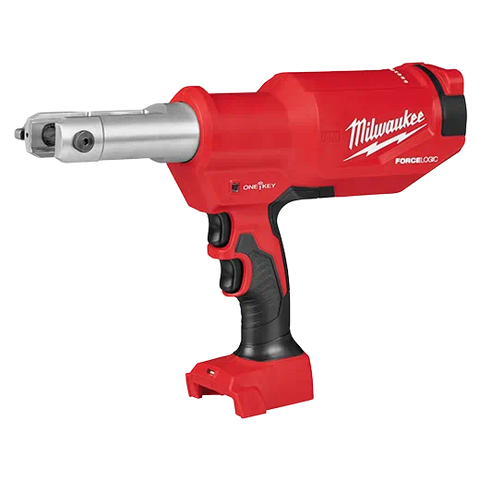 Milwaukee M18 Force Logic 6T Pistol Utility Crimper - (89-2977-20)
SKU:
2977-20
Description:
Our M18™ FORCE LOGIC™ 6T Pistol Utility Crimper is The Easiest Way To Crimp Overhead. As the lightest, most balanced 6T pistol utility crimper, it provides linemen the easiest alignment when making connections at shoulder height or above. Predictive Force Monitoring (PFM™) constantly measures force output to provide the fastest crimp speed while delivering accurate pressure and instant verification every time. A 340° rotating head allows for easy access into tight spaces. Compatible with Eight crimping and cutting jaws, the crimper delivers the versatility to tackle a variety of applications. With the ability crimp up to 4/0 line taps and cut up to 750MCM Cu, 1000MCM Al, 477 ACSR, ½" EHS Guy Wire, 3/8" Rebar, and 3/8" Ground Rod by simply changing jaws, the crimper becomes a lineman's single crimping and cutting solution. With our ONE-KEY™ Technology, Milwaukee® Crimpers enable you to store real-time crimp data, generate professional reports, view historical tool performance data, and sync it all wirelessly to the cloud for easy access. The 6T Pistol Crimper features a POWERSTATE™ Brushless Motor, REDLINK™ Electronics, and REDLITHIUM™ Batteries, providing you with unmatched reliability in the toughest conditions.
PRODUCT SPECIFICATIONS
| | |
| --- | --- |
| Head Rotation  | 340° |
| Output Force | 6T |
| Cycle Time  | 2.9 sec |
| Cut Capacity  | 750MCM Cu, 1000MCM Al, 477 ACSR, ½" EHS Guy Wire, 3/8" Rebar, and 3/8" Ground Rod |
| Length  | 17.25" |
| Width  | 3" |
| Weight  | 5.40 lbs |
| Height  | 12.25" |
| Power Source  | Cordless |
Best Sellers
Buckingham's newly designed, patented bucket hook ca...

The Buckingham Economy Linemen Kit was designed for ...
*Orders received by 12:00/Noon EST ship same busines...