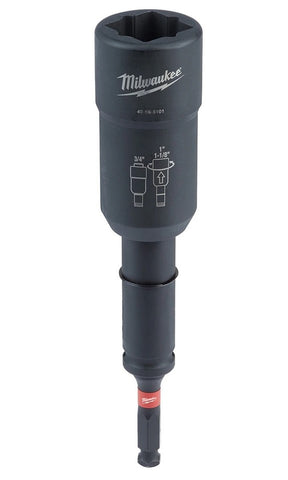 Milwaukee Linemans 3 in 1 Distribution Utility Impact Socket - (88-49665101)
SKU:
88-49665101
Description:
The SHOCKWAVE™ Linemans 3 in 1 Distribution Utility Socket provides more secure, efficient fastening in all fastening environments and orientations. The socket features a 3 in 1 square design for single sided fastening, eliminating the drop hazard of removing the socket from the adapter to change sizes. The Push and Twist Barrel Lock allows for secure, one-handed size changes, even while wearing gloves. The socket features an interior debris shield that resists interior rust and corrosion from dirt, wood chips and moisture from the jobsite.
*Usually ships in 7 to 14 days.
PRODUCT SPECIFICATIONS
Length 6.75"
Standard Distribution Utility Socket
Best Sellers
Buckingham's newly designed, patented bucket hook ca...

The Buckingham Economy Linemen Kit was designed for ...
*Orders received by 12:00/Noon EST ship same busines...