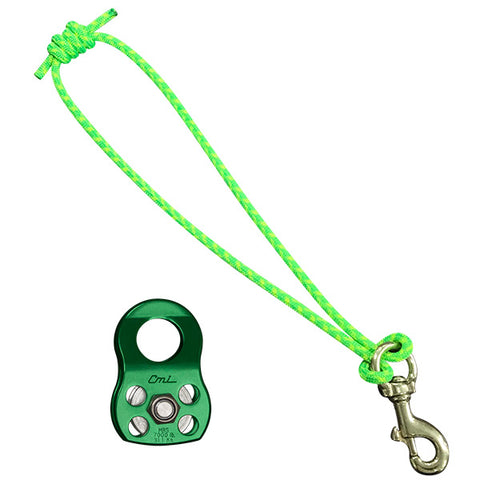 Micro Pulley Kit - KIT69
SKU:
KIT69
Description:
A kit featuring the popular RP110 pulley with a newly added feature, a 42" 6mm accessory cord prusik tied to a brass snap using a fisherman's knot. This kit is popular for its ability to easily tend a friction hitch with one hand in a split tail system.
*Usually ships within 7 to 14 days.
This micro pulley might be the most popular of its style in the entire tree climbing industry.
A 2 in 1 safety prusik lanyard gives the user easy adjustability with one hand.
Rescue model.
Anodized aluminum side plates, 1 1/4″ aluminum sheave, bushing, and aluminum axle.
Product Number:
RP110
Product Name:
Micro Pulley
Side Plate Material:
Aluminum
Sheave Material:
1.25" Aluminum
Length:
2.75"
Width:
1.85"
Rope Capacity:
1/2"
MBS:
7,000 lbs.
Weight:
0.15 lbs.
Made In USA?:
Yes
Prusik
Length
42"
Material
6mm Accessory Cord
Attachment 
3/4" Brass Snap
Weight:
0.2 lbs. 
 
 
Kit Weight:
0.35 lbs. 
Best Sellers
Buckingham's newly designed, patented bucket hook ca...

The Buckingham Economy Linemen Kit was designed for ...
*Orders received by 12:00/Noon EST ship same busines...