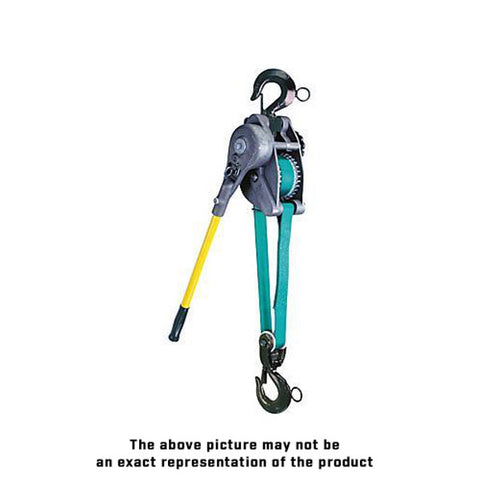 Little Mule Series 6000CA Linemans Hoist (86-6000CA)
SKU:
6000CA
Description:
Product Features
Strongest web strap hoist puller available featuring ease of operation, strength and precise control
Includes Swivel-Type Gate on all Hooks
Durable and Rugged
Extra large superior grade webbing with double side plate housing design
Positive load holding in all environments – provided by double interlocking PAWL mechanism
Extremely low handle effort – provided by special 4:1 gear reduction
Gate latches
Added webbing protection – wire form strap guide and special bottom block roller guide web smoothly on to drum
Meets or exceeds minimum 4:! Design factor and all requirements of ASME/ANSI Standard B-30.21
All units tested at 125% of rated load
*Usually ships in 7 to 14 days.
Product Specifications
Capacity: 6,000 lbs
Lift: 5'
Hoist Model: 6000
Type: Strap
Headroom: 31-1/2"
Load Limiter Included: No
Anchor Sling Installed: No
Product Weight: 26.5 lbs
Load Sentry Included: No
Metric Rated: No
Reeving: 2
Shipyard Hooks Incl.: No
Lever Length: 30"
Best Sellers
Buckingham's newly designed, patented bucket hook ca...

The Buckingham Economy Linemen Kit was designed for ...
*Orders received by 12:00/Noon EST ship same busines...