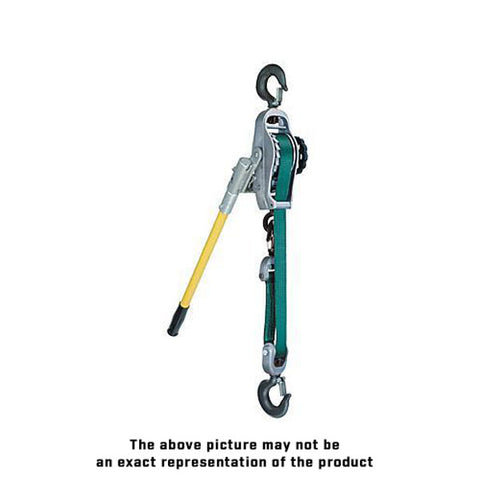 Little Mule Series 250DHA Linemans Hoist (86-250DHA)
SKU:
250DHA
Description:
Product Features
Lightweight and rugged strap hoist puller
Includes hot stick-type gate latch on all hooks as well as hot stick rings on all hooks
Control surfaces and quick disconnect shaft
Overload protection handle bends to warn of hazardous condition and prevents dangerous overload
360° swiveling hooks equipped with latches for positive load engagement
Positive load holding in all environments
Double, interlocking PAWL mechanism assures one PAWL is engaged at all times
Lightweight & rugged cast aluminum and zinc alloy housing
Corrosion resistant stainless Steel springs and shafts
Reduced wear through rotating shafts are mounted on bronze bushings
Meets or exceeds minimum 4:1 Design factor and all requirements of ASME/ANSI Standard B-30.21
All units tested 15 125% of rated load
*Usually ships in 7 to 14 days.
Product Specifications
Single Line Capacity: 1000 and 1500 lbs
Double Line Capacity: 2000 and 3000 lbs
Lift: 9-1/4' and 4-1/4'
Hoist Model: 250
Type: Strap
Headroom: 18"
Load Limiter Included: No
Anchor Sling Installed: No
Product Weight: 11.5 lbs
Load Sentry Included: No
Metric Rated: No
Reeving: 1 & 2
Shipyard Hooks: No
Lever Length: 20"
Best Sellers
Buckingham's newly designed, patented bucket hook ca...

The Buckingham Economy Linemen Kit was designed for ...
*Orders received by 12:00/Noon EST ship same busines...