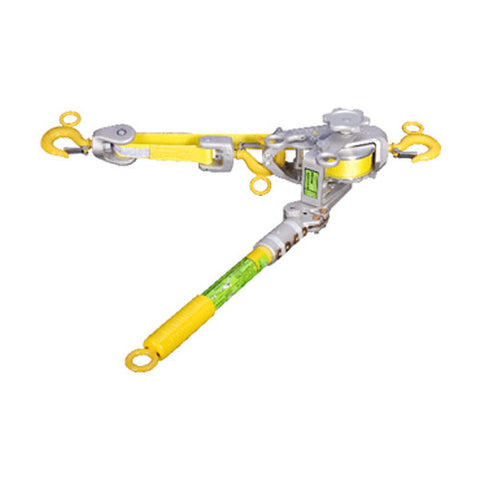 Lincoln Hoist Standard Series Web Strap Ratchet Winch Hoists (86-2W10SB)
SKU:
2W10SB
Description:
"B" Hot Stick Hook – have 1" welded steel rings on the hook 
This option also adds hot stick rings to the pawl shafts and handle
Hoists meet the ASME B30.21 spec
Goes further with our stress link overload warning system 
RFID Tracking 
Oiled for life bearings
Synthetic web strap
Interlocking pawl system
USA forged steel hooks 
Reversible handle with 2 spare stress links
1-1/4" OD fiberglass handle for extra stiffness
Double flanged drum – keeps web strap from coming in contact with ratchet teeth
The standard series feature models from 2000 to 4000 lb capacity.
Product Specifications
Handle Length: 30"
Single Line Capacity: 1000 lbs; ½ Tons
Single Line Lifting Dist: 9 ft
Single Line Minimum Hook to Hook: 18"
Double Line Capacity: 2000 lbs; 1 Ton
Double Line Lifting Dist.: 4-1/2 ft.
Double Line Minimum Hook to Hook: 23"
Hoist Weight: 10-1/4 lbs.
Best Sellers
Buckingham's newly designed, patented bucket hook ca...

The Buckingham Economy Linemen Kit was designed for ...
*Orders received by 12:00/Noon EST ship same busines...