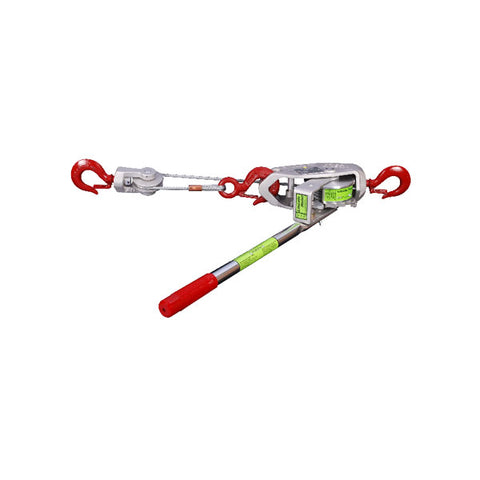 Lincoln Hoist Standard Series Cable Ratchet Winch Hoist (86-LH300010)
SKU:
LH300010
Description:
Series feature models from 1000 to 6000 lb capacity
Oiled for life bearings
Highly flexible aircraft cable
Hydraulically crimped copper sleeve for more uniform hold
Reversible handle bends on overload
USA forged steel hooks
All cable stores on
Cable shield protects cable and promotes even winding
Interlocking pawl system
Product Specifications
Cable Diameter: 7/32
Handle Length: 20"
Single Line Capacity: 1500 lbs; 3/4 Tons
Single Line Lifting Dist: 10 ft
Single Line Minimum Hook to Hook: 20"
Double Line Capacity:3000 lbs; 1-1/2 Tons
Double Line Lifting Dist: 5 ft
Double Line Minimum Hook to Hook: 23"
Hoist Weight: 9 lbs.
Best Sellers
Buckingham's newly designed, patented bucket hook ca...

The Buckingham Economy Linemen Kit was designed for ...
*Orders received by 12:00/Noon EST ship same busines...