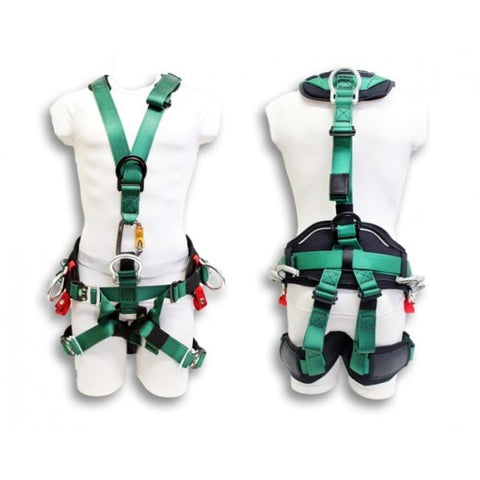 Buckingham Light Weight Rope Access Harness (41-66771)
SKU:
66771-S
Description:
*Usually ships within 7 to 14 days.
Proper Sizing Information - Click Here
-The 66771 Light Weight Rope Access Harness was designed with input from the experts at Safety One Training, designed by Rope Access Technicians to meet the needs of Rope Access Technicians. This feature packed harness weighs in at just 6 1/2 lbs to provide a light weight harness for the long hours on the ropes. 
Features & Benefits Include
:
• Shoulder strap adjustment buckles allow for quick, easy adjustment while on rope.
• Hook and loop fastens excess straps to shoulder pads, keeping them out of the way.
• Chest ascender retaining strap keeps ascender rigid and properly oriented
• Aluminum dee rings at the work positioning, sternal, umbilical, and dorsal positions help reduce weight.
• Specially designed 'U' shaped shoulder pads prevent neck irritation. Additional rear adjustment buckle allows user to properly adjust dorsal dee ring position.
• Ergonomically designed back pad features a lumbar pad providing unmatched comfort. Multiple gear loops on the back insures needed equipment will always be within reach.
• Quick connect buckles on the legs and waist allow for easy donning and adjustment
Best Sellers
Buckingham's newly designed, patented bucket hook ca...

The Buckingham Economy Linemen Kit was designed for ...
*Orders received by 12:00/Noon EST ship same busines...