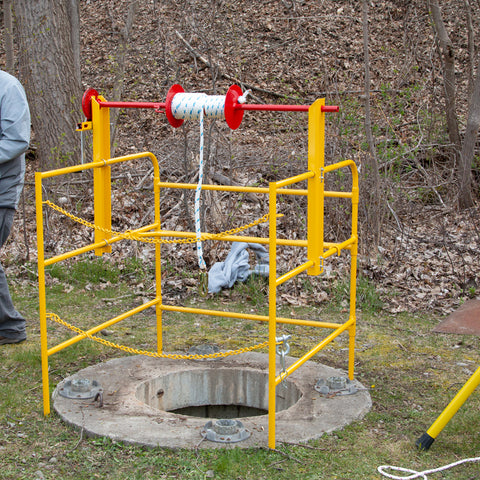 Tether Confined Space Rescue Kit - 105Q1-30
SKU:
105Q1-30
Description:
*Usually ships within 7 to 14 days.
Entrant suited with a full body harness (No. 63936Q) enters the confined space with a lifeline (39SAM13Q1) attached. The lifeline is attached to the manhole guard/rescue winch with a specially designed breakaway assembly. This device will release upon impact such as that of a vehicle which has entered the work zone and strikes the manhole guard. For rescue the attendant/rescuer attaches the ascender to the winch line and proceeds to raise the victim. Lifeline Kit includes: Manhole guard, winch and 39SAM13Q3-30 Lifeline Kit [Fig. 2]. 39SAM13Q3-30 Lifeline Kit includes one 30′ lifeline, with ascender, break away assembly and rope bag.
Buckingham also offers 12" leveling legs. If interested in adding leveling legs to the kit, please contact Buckingham Customer Service at 1-800-YES-BUCK or sales@buckinghammfg.com.
Instructions & Warnings:
Enclosed Space Rescue System Instructions & Warnings
Best Sellers
Buckingham's newly designed, patented bucket hook ca...

The Buckingham Economy Linemen Kit was designed for ...
*Orders received by 12:00/Noon EST ship same busines...