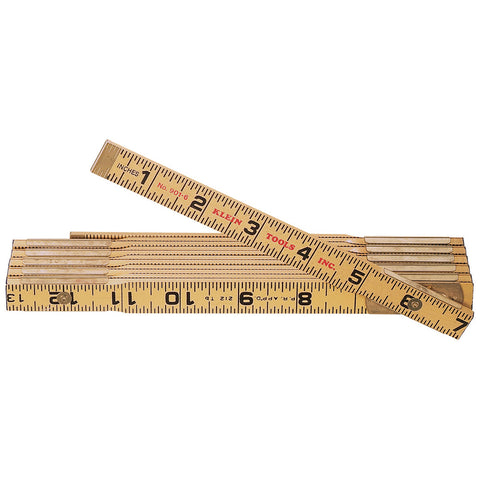 Klein Wood Folding Rules Outside Reading (94-901-6)
SKU:
94-901-6
Description:
*Usually ships within 7 to 14 days.
Strong, 6 (1.83 m) long hardwood rules with clear abrasion-resistant coating.
Black markings on yellow, with red stud center markings every 16 inches.
Measurements are marked on both sides and both edges, graduated to 1/16th inch.
Riveted lock joints are designed for long wear and maintained accuracy.
Engraved graduations on both sides.
Product Specifications
Special Features: Locking Joints
Material: Wood
Reading: Outside
Measurement Standard: SAE
Graduations: 1/16"
Coating: Abrasion-Resistant Coating
Overall Length: 6 ft (1.8 m)
Overall Width: ¾" (19.1 mm)
Weight: 0.33 lb (0.15 kg)
Best Sellers
Buckingham's newly designed, patented bucket hook ca...

The Buckingham Economy Linemen Kit was designed for ...
*Orders received by 12:00/Noon EST ship same busines...