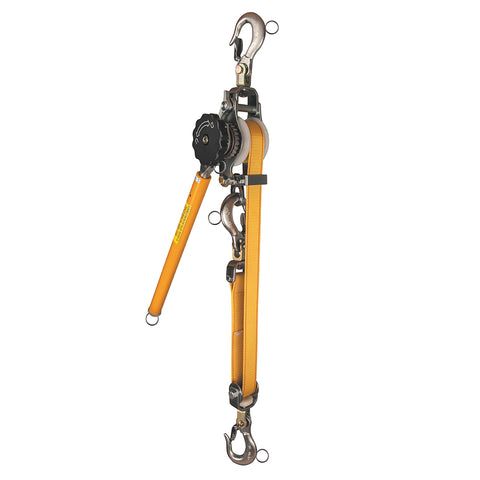 Klein Web-Strap Ratchet Hoist with Hot Rings (94-KN1500PEXH)
SKU:
94-KN1500PEXH
Description:
*Usually ships within 7 to 14 days.
Tight ratcheting mechanism allows precise tensioning with less work and fatigue
1-1/2 ton double line, ¾ ton single line load rating
Non-conductive dial allows web slack to be adjusted with ease
Hot rings on hooks, switch and end of handle enable use with hotstick
360° handle rotation allows for use from any angle
Meets ANSI/ASME B30.21-2014 and B30.10-2014 standards
Product Specifications
Single Line Pulling Distance: 20" to 138" (50.5 to 350,5cm)
Single Line Load Rating: 1500 lb (680kg)
Double Line Pulling Distance: 26" to 79" (66.0 to 200.6cm)
Double Line Load Rating: 3000 lb (1361 kg)
Weight: 13.6 lb (6.2kg)
Product Videos
Best Sellers
Buckingham's newly designed, patented bucket hook ca...

The Buckingham Economy Linemen Kit was designed for ...
*Orders received by 12:00/Noon EST ship same busines...