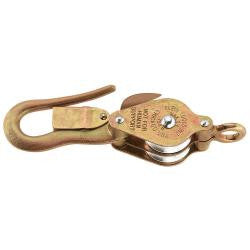 Klein Block with Eye and Nose Extended Over Keeper(94-H268)
SKU:
94-H268
Description:
*Usually ships within 7 to 14 days.
Block without ropes and hooks and nose extended over keeper. 
Hooks fit under insulator and engage pin on cross arm.
Sheaves have bronze bushings.
Maximum safe load is 750 lbs. (340 kg).
These are NOT occupational protective hooks. NOT for human support.
Best Sellers
Buckingham's newly designed, patented bucket hook ca...

The Buckingham Economy Linemen Kit was designed for ...
*Orders received by 12:00/Noon EST ship same busines...