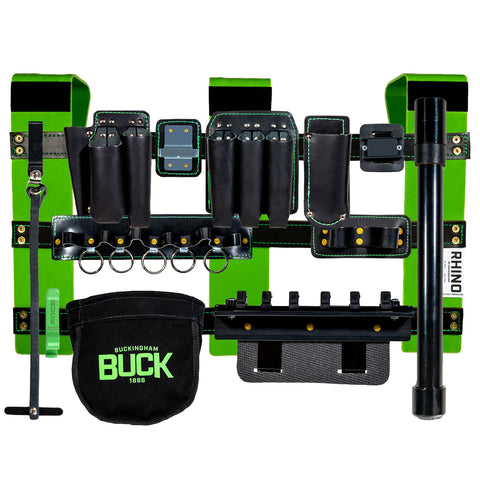 Journeyman Buck-It Rail™ Kit - 4507DK1
SKU:
4507DK1
Description:
Buckingham's Buck-It Rail™ Kit for Journeyman Lineman features the Flexible Buck-It Rail™ Board with a bucket lip that features 3 fiberglass strips allowing the user to utilize the corner of the bucket.
Can be configured to keep long handled tools below the lip of the basket to help prevent hang ups, accidental contact or snagging of the tools.
*Usually ships within 7 to 14 business days.
The Flexible Buck-It Rail™ Board also easily rolls up for compact storage in a gear bag or truck bin.
Features:
4507-1: 3 Pocket Holster.
4507-2: 3 Pocket Bug Wrench Holder.
4507-3: Skinning Knife Sheath.
4507-4: Tool Loop.
4507-5: Lowell Wrench Holder.
4507-6: 3" Magnet.
4507-7: Tape Holder.
4507-8: Socket Holder.
4507-9: Auger Bit Holder.
4507-10: Nut/Bolt Bag.
4507-11: Tool loop Holder w/ Rings.
2402B: BuckCarrier Chainsaw Carrier
Buck-It Rail System Instructions & Warnings
This product is part of our customizable RHINO line:
Best Sellers
Buckingham's newly designed, patented bucket hook ca...

The Buckingham Economy Linemen Kit was designed for ...
*Orders received by 12:00/Noon EST ship same busines...