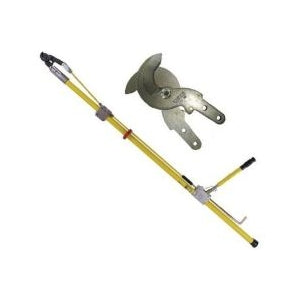 Insulated Ratchet Cutter with Soft Wire Cutter Head - (53-11018)
SKU:
53-11018
Description:
For cutting ACSR and Soft Wire conductors. Powerful lightweight ratchet cutter. Cutting heads are interchangeable. Operates in any position. Handle folds to store 6" canister. Upper roller minimizes shaft deflection. Parts are standardized for easy replacement. Insulated fiberglass shaft and operating rod for maximum safety and durability. Overhead - provides cleans cuts for splicing conductors. Underground - operates in a 5" wide trench.
Best Sellers
Buckingham's newly designed, patented bucket hook ca...

The Buckingham Economy Linemen Kit was designed for ...
*Orders received by 12:00/Noon EST ship same busines...