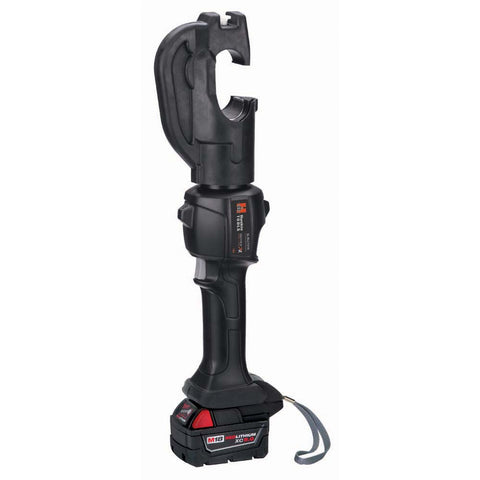 Huskie 12 Ton Inline Compression Tool - SL-RLC7510
SKU:
SL-RLC7510
Description:
Kit Includes: 12 Ton Compression Tool, (1) MILWAUKEE REDLITHIUM™ 5.0Ah, 120V A/C or 12V D/C Charger, Tool Bag.
Tool Only option includes: 1x Compression Tool & Tool Bag. (excludes battery / charger).
Product usually ships in 7-14 days.
Key Features:
Protective rubber boot on "C" head helps prevent accidental contact with energized circuits.
Head rotates 180° for optimum maneuverability in tight work spaces.
Inline tool design for easy use in underground applications.
Accepts all U type industry standard die sets.
5 Yr. Tool/3 Yr. Battery & Charger Warranty
Product Specifications:
Crimp Force:
12 Ton
Weight(with battery):
15.2 lbs (6.9 kg)
Dimensions (H X L X W):
19.7" x 6.4" x 4.0" (510 x 162 x 103 mm)
Jaw Opening:
1.65"
Connector Range:
Lugs & Splices:
750 MCM Al/Cu
Crimping Estimates(5.0Ah battery):
750 MCM Cu:
135 Cycles/Charge
500 MCM Cu:
140 Cycles/Charge
Best Sellers
Buckingham's newly designed, patented bucket hook ca...

The Buckingham Economy Linemen Kit was designed for ...
*Orders received by 12:00/Noon EST ship same busines...