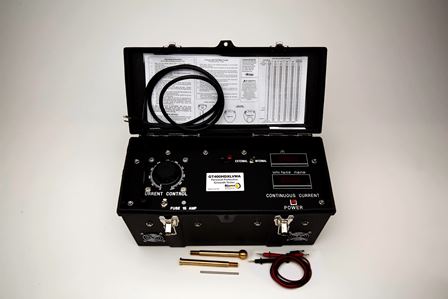 GT Series Grounding Assembly Tester - GT400-2
SKU:
GT400-2
Description:
The GT400HDXL or GT400HDXLVMA provide quality testing for personal protective grounding assemblies. The GT Series Grounding Assembly Testers are designed to provide integrity testing of the electrical characteristics of portable protective grounding assemblies. The GT Series Testers provide a reliable test by administering Rated ASTM Current up to 400 Amps through the grounding assembly and measuring the voltage drop across the assembly. The voltage drop in conjunction with a thorough visual inspection determines if the grounding assembly meets ASTM electrical specifications.
The GT Series Testers are housed in a sturdy carrying case. Each unit is compact, weighs approximately 60 pounds and quickly confirms the condition of an entire grounding jumper assembly. It is easy to operate and can be set up for testing in a matter of minutes by qualified lab or field personnel.
GT400HDXL or GT400HDXLVMA Features:
Powered by conventional 115VAC outlet rated at 20 amps or higher
Variable transformer allows ASTM continuous current to be applied to cable
Compact and easy to read reference chart
Optional voltmeter (suffix VMA) addition allows for troubleshooting clamp and ferrule connections
Easily converts for testing elbows, bushings, mechanical jumpers, substation clamps, truck grounds and cluster grounds
Optional adapters are available for special applications
Unit comes standard with ball stud electrode (817542), plain electrode (817600S), tightening pin (GT400SP), instruction manual. Also has the Voltmeter addition (VMA), which allows for troubleshooting clamp and ferrule connections.
Best Sellers
Buckingham's newly designed, patented bucket hook ca...

The Buckingham Economy Linemen Kit was designed for ...
*Orders received by 12:00/Noon EST ship same busines...