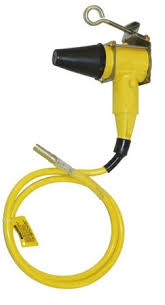 Grounded Parking Stand Assemblies 15KV - (53-6772)
SKU:
53-6772
Description:
For padmount transformer applications. Pre assembled. All assemblies utilize 6 of 1/10 yellow ground cable. Versatility of the ferrule termination, (threaded or non-threaded) allows for the selection of a wide variety of ground clamps. Lug termination on the bushings and the ferrule termination are both sealed with heat shrink, which prevents the entry of moisture into the connection, plus provides added stress relief to the termination. All assemblies are fault current rated at 10KA for 10 cycles. A 15KV grounded parking stand with plug terminal ferrule. Weighs 5.5 lbs.
Best Sellers
Buckingham's newly designed, patented bucket hook ca...

The Buckingham Economy Linemen Kit was designed for ...
*Orders received by 12:00/Noon EST ship same busines...