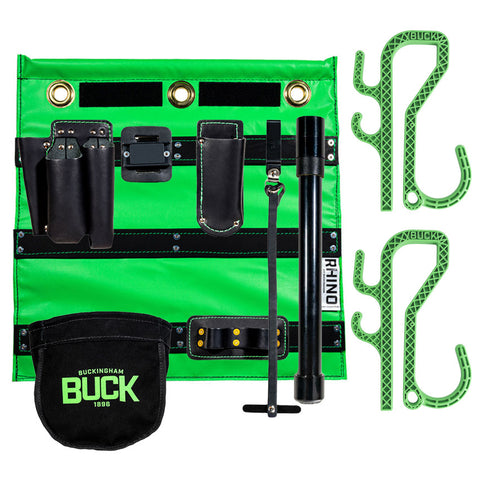 Ground Man Buck-It Rail™ Kit - 4507EK1
SKU:
4507EK1
Description:
Buckingham's Buck-It Rail™ Kit for Ground Men features the 20" X 20" Heavy-Duty Vinyl Buck-It Rail™ Board with Holes for Bucket Hooks equipped with all the necessary attachments.
Paired with 2 Buckeye Bucket Hooks with Tether Hole.
*Usually ships within 7 to 14 business days.
Features:
4507-1: 3 Pocket Holster.
4507-3: Skinning Knife Sheath.
4507-4: Tool Loop.
4507-6: 3" Magnet.
4507-7: Tape Holder.
4507-9: Auger Bit Holder.
4507-10: Nut/Bolt Bag.
2410 (2): Buckeye Bucket Hook w/ Tether Hole.
Buck-It Rail System Instructions & Warnings
This product is part of our customizable RHINO line:
Best Sellers
Buckingham's newly designed, patented bucket hook ca...

The Buckingham Economy Linemen Kit was designed for ...
*Orders received by 12:00/Noon EST ship same busines...