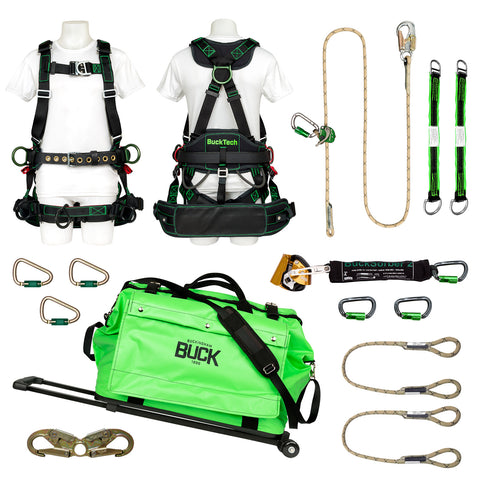 Deluxe Tower Climbing Kit - KIT146Q1
SKU:
KIT146Q1-S
Description:
The Buckingham Deluxe Tower Climbing Kit offers top-notch comfort, durability, and safety by combining many of our top-of-the-line tower climbing products and some accessory products as well.
*Usually ships within 7 to 14 days.
Come prepared for your next tower climb with the following products!
BuckTech™ FR(68K966K6):
Not only does the BuckTech™ have a new look but we put substantial time into redesigning the seat to make it more comfortable and easier to change out from the original version. The BuckTech™ is taking tower safety to the next level. The BuckTech's removable seat, lightweight aluminum D-Rings, quick connect buckles and much more make this harness one of the most versatile harnesses on the market.
Lockable Big Buck Mouth Bag(47333G9L3R5SW1):
The Buck Big Mouth line of equipment bags was designed with an extended extra-wide mouth (15 ½" x 22") to make it easier and faster for workers to store all their PPE, gear, tools, and other items in their bag with ease. No more struggling to get your essentials into your bag and no more fighting to get it closed. Features two lock holes at left and right of bag closure to easily attach a padlock or cable lock.
Buck Leverjust w/ Treblekern Tough Rope™(92CM8-8):
The Buck Leverjust™ with Tough Rope™ is a lightweight Adjustable Positioning Lanyard (APL) designed specifically to allow users to lengthen without removing weight from the lanyard with the use of Buckingham's all-new LeverGrab™ Length Adjusting Device (LAD). Buckingham's new wear-resistant Tough Rope™ is constructed with an energy-absorbing nylon core, red braided polyester inner core cover (red wear indicator), and an abrasion and heat resistant Technora outer jacket that eliminates the need for a wear guard. No more jamming of your wear guard!
Mobile Fall Arrestor w/ BuckSorber2(5004L4):
A mobile fall arrestor with a shock-absorbing pack that features an integrated locking function allows the user to immobilize the device to reduce the length of fall. Moves freely along the rope without any manual intervention.
Lightweight Suspension Sling(39021J12-2):
A Lightweight suspension sling designed to be used as a personal anchor for human support and it can be choked, or a basket hitched. The streamlined size of this lightweight suspension sling is very flexible, so it is easy to handle and install. Steel rings allow any type of connector to be hooked to it. Comes with a wear protector for wrapping around sharp objects and increases the life of the sling.
Model Number:
68K966K6
Product Name:
BuckTech™ FR
Buckle Type:
Tongue Buckle
Buckle Material:
Steel
Number of Dee rings:
2 Work Positing, 3 Suspension, 1 Dorsal.
Dee Ring Material:
Aluminum
Belt Strap Material:
Nylon
Back Pad Material:
Drilex
Accessory Snap/Ring:
No
Tape Thong:
No
Removable Belt Strap:
Yes
Full Floating Dee Rings:
Yes- 1 Floating Suspension D-Ring
Gear Loops:
Yes – Rated to 100 lbs.
Tool Loops:
Yes
Pouch Tabs:
No
Thread/Stitching:
Nylon / Drilex
Back Pad Width:
7″
Belt Strap Width:
1.75″
Harness Information:
Arc Rated
Thread/Stitching:
Nylon
Material:
Nylon/Navajo
Chest Strap:
Quick Connect
Leg Strap:
Quick Connect
Thread Stitching:
Nylon
Torso Adjustment:
Yes
Dorsal Attachment:
Aluminum Dee
Shoulder/Leg Pads:
Yes
Shoulder/Leg Pad Type:
Drilex FR Foam
Harness Type:
H
Frontal Attachments:
Yes
Retrieval Attachments:
No
Size:
S-X
Product Type:
Fall Arrest, Restraint, Suspension, Work Positioning
User Weight Capacity:
420 lbs.
Weight:
10 lbs
Standards:
Meets all applicable OSHA, ASTM, ANSI and ASTM-F887 Arc Flash Requirements.
Made in the USA:
Yes
 
 
Product Number:
47333G9L3R5SW1
Product Name:
Lockable Buck Big Mouth Bag W/ Wheels
Height:
20″
Width:
22″
Depth:
19″
Weight:
7 lbs.
Number of Pockets:
2
Outside Pockets:
2
Inside Pockets:
0
Material:
Vinyl
2 Way Snap:
No
Rain Flap:
Yes
Back Straps / Shoulder Straps:
Yes – Shoulder Strap
Closure Tab:
Buckle/Hook & Loop Fastener
Bottom Material:
Rubber
Wheels:
Yes
Magnet:
No
Standards:
N/A
Made in the USA:
Yes
 
 
Model Number:
92CM8-8
Product Name:
The Buck LeverJust™ with ToughRope™
Overall Length:
8
Connector Type:
Locking Snaphook & Double Locking Carabiner
Connector Material:
ALuminum
Material Type:
11.65 mm TrebleKern Rope
Adjustable:
Yes
Adjustable Type:
Buck LeverGrab
Protector:
No
Protector Type:
N/A
Red Wear Center:
Yes
Weight:
2.1 lbs
User Weight Capacity:
350 lbs
Product Type:
Work Positioning
Standards:
Meets applicable OSHA regulations, ASTM F887, and ANSI standards. LeverGrab meets ANSI Z359.3 standard.
Made in the USA:
Yes
 
 
Product Number:
5555S4
Weight:
3.7 oz
Length:
5 5/8″
Width:
3″
Material:
Aluminum
Diameter of Eye:
No Eye
Gate Opening Capacity:
0.63″
Gate Strength:
3596 lbs (16Kn)
Breaking Strength:
6744 lbs
Standards Met:
ANSI Z359.12
Made in the USA:
Yes
 
 
Product Number:
5004L4
Product Name:
Mobile Fall Arrestor Lock w/ BUCKSORBER2™
5004L1
ASAP Lock
Length:
5.51 in
Width:
3.74 in
Weight:
1.14 lbs
Designed For:
Vertical or Angled Rope, 10-13 mm
Material:
Aluminum, Stainless Steel & Nylon
400000X12
BUCKSORBER2™
Material:
Navajo / Kevlar
Closure Type:
Hook & Loop
User Weight Rating:
350 lbs. fully equipped
2 Person Load Rating:
620 lbs.
Max Length:
6′
Max Length w/ Fall Arrester:
1.5′
Standards:
Meets or exceeds all applicable requirements of ANSI Z359.13 – 6ft and 12ft free fall, ASTM F887 standards OSHA 1926.502 and 1926.954 regulations.
Made in the USA:
Yes
 
 
Product Number:
9442C13
Product Name:
Tough Rope™ Sling
Length:
3
Diameter:
11.65 mm
Weight:
.5 lbs.
Material:
TrebleKern Tough Rope™
Made in the USA:
Yes
 
 
Product Number:
5005
Product Name:
Steel Auto-Lock Carabiner
Option Number:
D
Weight:
9.8 OZ
Length:
4.8″
Width:
3.2″
Material:
Steel
Diameter of Eye:
No Eye
Gate Opening Capacity:
0.95″
Gate Strength:
3596 lbs (16KN)
Breaking Strength:
9217 lbs (41KN)
Standards Met:
CSA Z259.12 / ANSI Z359.12
Other:
Triple Action (3)
 
 
Product Number:
3032L
Product Name:
Locking Spreader Snap
Length:
9.75″
Width:
2.25″
Eye Diameter:
1″
Gate Diameter:
1″
Weight:
1.5 lbs.
Material:
Steel
Rated to:
5,000 lbs.
Made in the USA?:
Yes
 
 
Product Number:
39021J12-2
Product Name:
LIGHTWEIGHT SUSPENSION SLING
Length:
2′
Web Width:
1″
Web Material:
Nylon Web
Wear Guard Width
1 3/4″
Wear Guard Material
Polyester
Connectors
Large 2″ D-Ring, Small 1″ D-Ring
Weight:
2 lbs.
Weight Rating
5000 lbf.
Standards
Applicable OSHA & ANSI standards. (Only use this product with ANSI Z359.12 approved connecting components).
Made in the USA?:
Yes
Harness Sizing Chart
Harness Wearing Instructions
Tower Harness Sizing Information
BuckTech Instructions
Leverjust Instructions
Body Belts and Positioning Straps
Lanyard Instructions
Temporary Anchor Instructions
REVIEW - Bucktech & Access Harnesses
(VIDEO LINK)
Best Sellers
Buckingham's newly designed, patented bucket hook ca...

The Buckingham Economy Linemen Kit was designed for ...
*Orders received by 12:00/Noon EST ship same busines...