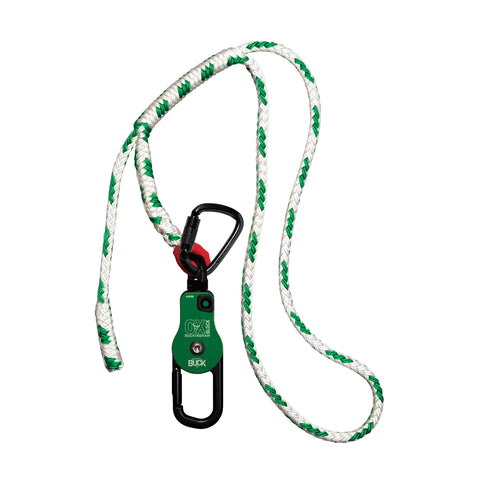 Buckingham Ox Block With Attached 4 Sling And Steel Carabiner - 50061A-4
SKU:
50061A-4
Description:
The OX BLOCK™ handline assembly, as a whole, can be used for human rescue. However, DO NOT USE P/N 2406 handline hook [MBS 500lbs] or handline snap [MBS 750 lbs] for human support. All components used for rescue must have a 5000 lb. rating, configured to accept human support. For rigging, ensure the weak link has a 4 to 1 safety factor. 
The OX BLOCK™ is a rope snatch block with an integrated friction bar used for:
Hurtman/self-rescue
Lowering 
Raising
Snubbing loads
ALSO AVAILABLE
OX BLOCK™ with 7 sling & steel carabiner, order model: 50061A-7
*50061A-4: Orders received by 12:00/Noon EST ship same business day. After 12:00/Noon EST ship next business day
*50061A-7: Usually ships within 7 to 14 days.
It allows the rigging professional to handle loads with greater control. When lowering loads, tension is transferred from the worker to the OX BLOCK™.
The patented OX BLOCK™ replaces standard handline blocks, parted blocks and various snatch blocks.
Has greater WLLs than blocks of similar size.
When configured with optional pulleys, the OX BLOCK™ can be used to create a 4:1, 5:1 or 6:1 mechanical advantage reducing the amount of force needed to lift heavy loads.
The advantage of the pulleys used by Buckingham is the swivel side plate that allows for quick and easy rope installation without removing the pulley from the connecting device.
ASME B30 Compliant
Product Specifications
Product Number:
50061A-4
Product Name:
OX BLOCK™ HANDLINE ASSEMBLY
Material:
Polyester Rope, Aluminum OX Block (50061), Alloy Steel Snap (5005S5), Steel Hook (2406)
Length:
4 Sling (Rope), 8.27" OX Block (50061), 4.68" snap (5005S5)
Width:
5/8" Rope, 1.99" OX Block (50061), 3.07" snap (5005S5)
Weight Rating:
5,000 lbs. 
Weight:
4.25 lbs.
Breaking Strength:
Snap (5005S5)- MBS 11,240lbs (50KN), OX Block (50061)- MBS (Sheave to eye)- 10,000lbf/MBS (Hook to eye)- 6,000lbf. WLL-50061A-4 (Sling Only)- Straight- 3,200 lbs, Choker- 2,560 lbs, Basket- 6,400lbs. SWL- 2406 (Hook) 500lbs.
Links to Relevant Hardware:
50061 OX Block™
5005S5 Carabiner
OX Block™ Standards:
ASME B30 Compliant
Made In USA?:
Yes
Instructions & Warnings
OX BLOCK™ Instructions & Warnings
Ox Handline Inspection Instructions
Ox Block™ Sling Instructions & Warnings
Download Links
Ox Block™ Overview
Ox Block™ Training
Ox Block™ Pole Top Rescue Training
Ox Block™ Anchorage Training
Ox Block™ Lift & Lower Training
Tower Rescue Training
Ox Block™ Demonstration at NLC
Pole Top Rescue with Crossarm
Pole Top Rescue with Bare Pole
Best Sellers
Buckingham's newly designed, patented bucket hook ca...

The Buckingham Economy Linemen Kit was designed for ...
*Orders received by 12:00/Noon EST ship same busines...