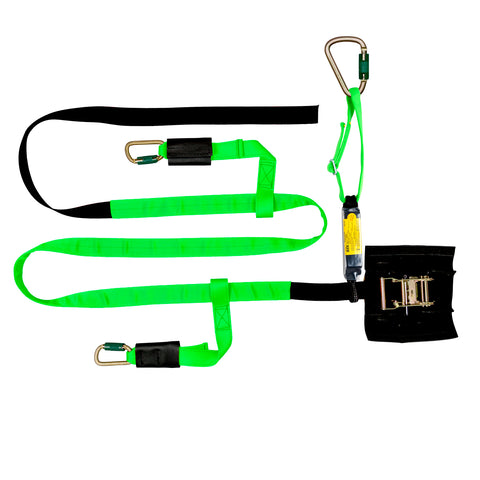 Buckingham BuckIt™ Restraint System - 126A
SKU:
126A
Description:
The PATENTED 126K BUCKIT™ Restraint Kit includes:  
Retro harness strap to attach to your harness or aerial belt
Rear attachment strap
Front attachment strap
The BUCKIT™ Restraint system is ideal for single-man bucket crews, troubleshooters working alone, street light crews, cable and telecom workers, and arborists working on aerial/compact lifts.
*Orders received by 12:00/Noon EST ship same business day. After 12:00/Noon EST ship next business day.
Features include: 
A 10,000lb. rated nylon strap attached with a ratchet buckle and cotter pin that places the anchor point at the basket.

Two attachment points attach to the workers harness or aerial belt that prevents the worker from falling or being catapulted from the basket.

Gives you all the freedom of movement and mobility needed to work comfortably.

An energy absorber is attached between the BUCKIT™ restraint strap and the anchor point on the boom.

This system will keep the operator, basket, and the boom from hitting the ground in the event of a catastrophic separation of the bucket from the boom.

Freedom of movement allows the user to duck inside of the bucket for safety in the event of a flash.

Should the webbing around the basket be severed, the attachment back to the anchor is independent of the webbing around the basket.

Total kit weight: 6 lbs. 
126A BuckIt™ Restraint Instructions & Warnings
Buck Arrest™/ BuckStop Instructions and Warnings
Best Sellers
Buckingham's newly designed, patented bucket hook ca...

The Buckingham Economy Linemen Kit was designed for ...
*Orders received by 12:00/Noon EST ship same busines...