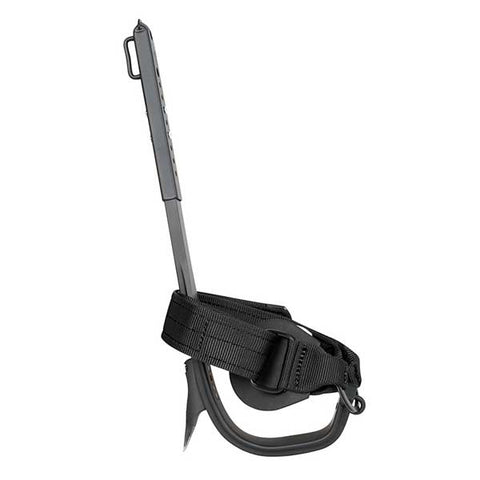 Buckalloy™ black climber with hook & loop strap - A94089AV-BL
SKU:
A94089AV-BL
Description:
*Usually ship within 7 to 14 days.
After listening to customers who wanted a BuckAlloy™ climber in black, we developed a new matte black version of the already popular standard chrome climber (A94089AV). The BuckAlloy™ Black climbers are the most durable aluminum climber in the industry and most cost-effective lightweight climbers made in the U.S.A. These climbers provide strong, lightweight comfort for total confidence while climbing.
Buckingham's new Patented GRiP (Gaff Ridge Position) technology: "Climb like the old timers but feel comfy like the new guys" says one Journeyman Lineman who has worn the BuckAlloy™ Climbers with GRiP technology. Keeps the gaff pointed toward the heart of the pole.
Aids in preventing cutouts, allowing for better, more comfortable setting of the foot and arch.
The GRiP technology also allows optimum gaff placement on the pole and promotes ease of climbing.
BENEFITS & FEATURES:
GRiP (Gaff Ridge Position) Technology keeps gaff pointed towards the heart of the pole greatly reducing cut outs.
The BuckAlloy™ Climbers are rated to 350 lbs. and exceeds ASTM F887 standards.
Unmatched comfort in an aluminum climber and lightest aluminum climber available.
Dowel & Screw design allows for easy gaff change out.
Alloy blend contributes to superior product life cycle.
Aluminum Alloy used in transport applications including marine, automotive, and aviation due to its high strength to density ratio.
The 'T' shaped aluminum ribbed construction adds strength to the climber.
Youre the best in the field! Shouldnt you wear the best?
Product Specifications:
| | |
| --- | --- |
| Model Number: | A94089AV-BL |
| Product Name: | BuckAlloy™ Black Climbers with Hook & Loop Straps |
| Material: | Aluminum |
| Gaff Type: | Pole |
| Gaff Material: | Steel |
| Gaff Attachment Type: | Screw / Dowel |
| Gaff Angle: | 16° |
| Foot Straps: | Yes / Model No. 21401C |
| Leg Straps: | No |
| Climber Pads: | No |
| GRiP: | Yes |
| Shank Type: | Non-Contoured |
| Stirrup Type: | Offset |
| Stirrup Width: | Standard- 4 1/2" |
| Sleeve Length: | Standard |
| Gaff Length: | 1-3/4" |
| User Weight Capacity: | 350 lbs. |
| Weight: | 1.2 lbs. |
| Standards: | ASTM F887 |
| Made in USA? | YES |

Instructions & Warnings:
Climber Instructions
Climber Sleeve Insert Installation Instructions
Guide to Maintenance of Buckingham Pole Climbers
Gaff Guard Instructions
Lugless Gaff Instructions
Videos & Brochures


BuckAlloy™ Aluminum Climbers (DOWNLOAD)


BuckAlloy Aluminum Climber Review (DOWNLOAD)


BuckAlloy™ Climber Setup (DOWNLOAD)


BuckAlloy Black Climbers (DOWNLOAD)


BuckAlloy Black Climbers (DOWNLOAD)


Best Sellers
Buckingham's newly designed, patented bucket hook ca...

The Buckingham Economy Linemen Kit was designed for ...
*Orders received by 12:00/Noon EST ship same busines...