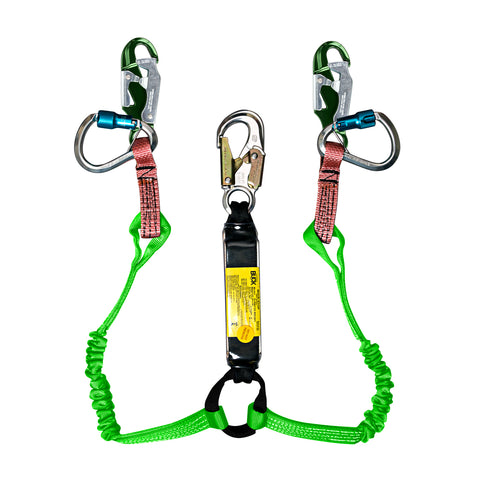 Buckingham Buck StepClimb™ Lanyard - 5+R67D15RD3S1
SKU:
5+R67D15RD3S1
Description:
*Usually ships within 7 to 14 days. 
Introducing the new BuckViz™ StepClimb™ Lanyard, the same product as the popular StepClimb™ Lanyard (5+R6715RD3S1) but in Buckingham's new high-vis green!
The BuckViz™ StepClimb™ Lanyard features:
The Buck StepClimb™ lanyard provides a safe, easy way to ascend and descend a tower using the existing step bolts. Ergonomically designed aluminum snaps attach onto either 5/8" of 3/4" diameter step bolts
An aluminum snap hook is used to connect to the harness dorsal attachment and keeps the overall weight at a mere 3 lbs
Also features an elastic core and rescue loops

Standards: ASTM F887 Electric Arc Performance Requirements, OSHA 1926.954 & Hardware meets ANSI 3600 lb gate strength requirements.
 Specs
Model Number
5+R67D15RD3S1
Product name
BUCKVIZ™ STEPCLIMB™ LANYARD
Overall Length
5
Number of Legs
2
Material Type
Nylon Web
Energy Absorber
Yes
Energy Absorber Fall
6

 

Leg Connector Type


 

Two- Aluminum Step Bolt Snaphooks, Two- Aluminum Carabiners.

Energy Absorber Connector
Aluminum Snaphook.
Protector
No
Protector Type
N/A
Red Wear Center
No
Ring Material
N/A
Weight
3 lbs.
Standards
ASTM F887/ANSI Z359.12-2009
Made in USA?
Yes
Buck Arrest™ Instructions and Warnings
Buckyard Instructions & Warnings
Best Sellers
Buckingham's newly designed, patented bucket hook ca...

The Buckingham Economy Linemen Kit was designed for ...
*Orders received by 12:00/Noon EST ship same busines...