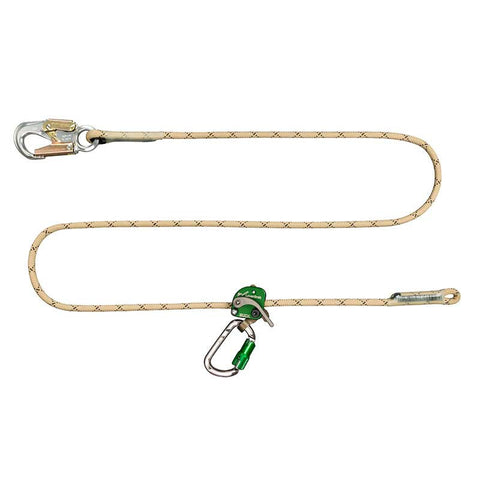 Buckingham Buck LeverJust with TrebleKern Tough Rope - 92CM8-8
SKU:
92CM8-8
Description:
The Buck LeverJust™with Tough Rope is a light weight Adjustable Positioning Lanyard (APL) which features Buckingham's all new LeverGrab™ Length Adjusting Device (LAD), aluminum hardware and a wear resistant TrebleKern rope. TrebleKern is constructed with an energy absorbing nylon core, red braided polyester inner cover (red wear indicator) and an abrasion and heat resistant Technora outer cover that eliminates the need for a wear guard. The new Buckingham LeverGrab™ LAD allows for easy onehanded adjustment of your APL. This lightweight APL is easy to use and specially designed for use on Towers, Substation and any structure where wear is an issue.
Patented Product. 
Key features include:
11.65 MM. TrebleKern Tough rope with a red wear indicator to alert the user of excessive wear.
The New Buck LeverGrab™ LAD easily adjusts with one hand and is fully adjustable while under load, making length adjustment easier. Meets ANSI Z359.3 standard.
This versatile lanyard can be used for positioning, suspension or rescue.
For use by right or left-handed users.
A stitched eye on the tail of the rope allows the user to easily stow the excess tail on either the BuckTender (PN 2404) or Handline Carrier (PN 2402).
The ANSI Z359.12 3600 lbf. rated gate aluminum hardware reduces the overall weight.
Maximum user weight of 350 lbs. when fully equipped.
Meets applicable OSHA regulations, ASTM F887, and ANSI standards.
The 1/2" Kernmantle version makes this product equally appealing to the arborist.
*Orders for 92CM8-8 received by 12:00/Noon EST ship same business day. After 12:00/Noon EST ship next business day.

*Other lengths usually ship in 7-14 business days.
Product Specifications
Model Number:
92CM8-8
Product Name:
The Buck LeverJust™ with ToughRope
Overall Length:
8"
Connector Type:
Locking Snaphook & Double Locking Carabiner/td>
Connector Material:
ALuminum
Material Type:
11.65 mm TrebleKern Rope
Adjustable:
Yes
Adjustable Type:
Buck LeverGrab
Protector:
No
Protector Type:
N/A
Red Wear Center:
Yes
Weight:
2.1 lbs
User Weight Capacity:
350 lbs
Product Type:
Work Positioning
Standards:

Meets applicable OSHA regulations, ASTM F887, and ANSI standards

LeverGrab meets ANSI Z359.3 standard.

Made in USA?
YES

Instructions & Warnings:
Leverjust Instructions
Body Belts and Positioning Straps
Lanyard Instructions
Best Sellers
Buckingham's newly designed, patented bucket hook ca...

The Buckingham Economy Linemen Kit was designed for ...
*Orders received by 12:00/Noon EST ship same busines...