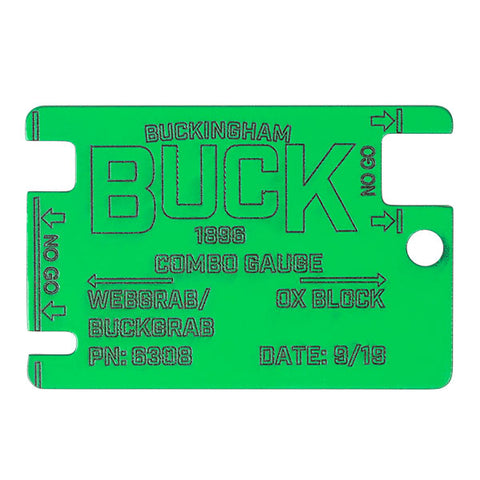 BuckGrab, WebGrab and Ox Block Friction Bar Gauge - 6308
SKU:
6308
Description:
"No-go" windows are designed to help users easily and accurately inspect your SuperSqueeze, EZSqueeze or Ox Block™ all with one gauge.
A hole in the back of the gauge allows the user to attach the Cam Eye Gauge to a key chain for easy access.
This product replaces the old Cam Eye Gauge (PN 6307).
*Usually ships in 7 to 14 days. 
Making sure you correctly inspect the cam eye on your BuckGrab and WebGrab on your SuperSqueeze, EZSqueeze, BuckAdjuster, SuperStrap or Ox Block™ is essential to your safety. This gauge allows you to inspect your BuckGrab, WebGrab, and Ox Block all with a device the size of a business card.
Ox Block & WebGrab Combo Gauge Instructions
Best Sellers
Buckingham's newly designed, patented bucket hook ca...

The Buckingham Economy Linemen Kit was designed for ...
*Orders received by 12:00/Noon EST ship same busines...