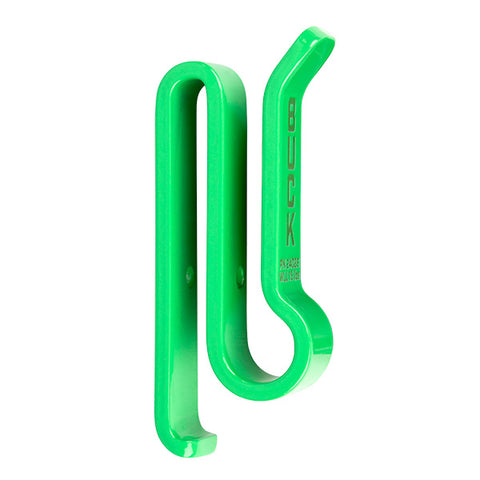 Buckcarrier™ Chainsaw Carrier - 2402B
SKU:
2402B
Description:
Newly Updated: The BuckCarrier™ will now be packed with a clear plastic spacer and a rubber stopper.
The clear plastic spacer is added as an accessory to the BuckCarrier™ to make for a tighter fit if there is a bit of slack depending on the saddle its being used on. Adding the clear plastic spacer to the BuckCarrier™ allows it to better fit on single layer straps.
The rubber stopper is low profile, removable, and allows the BuckCarrier™ to be moved from one location to another. This will replace the zip tie since you need to cut and replace each time if you want the BuckCarrier™ to be repositioned (This is an alternative method; zip tie may still be used).
The BuckCarrier™ is a light-weight (2.4oz) aluminum carrier designed to store your chainsaw on your saddle. It is the lowest profile chainsaw hook on the market and its compact design makes it nearly impossible to get caught on limbs and branches like other chainsaw carriers on the market. It can be used to carry practically anything!
*Orders received by 12:00/Noon EST ship same business day. After 12:00/Noon EST ship next business day. 
Features:
4 1/2in tall, 3/4in wide, and 1 3/4in making it the most compact carrier around.
WLL is 15lbs.
Fits most popular saddles currently on the market.
Shipped with a zip tie to further secure to your saddle.
| | |
| --- | --- |
| Product Number: | 2402B |
| Product Name: | Buckcarrier™ |
| Material: | Aluminum |
| Length: | 1.75" |
| Width: | 0.75" |
| Height: | 4.5" |
| Breaking Strength: | 15lbs |
| Weight: | 2.4 oz |
| Made in USA?: | Yes |
2402B Buck Carrier Instructions
Best Sellers
Buckingham's newly designed, patented bucket hook ca...

The Buckingham Economy Linemen Kit was designed for ...
*Orders received by 12:00/Noon EST ship same busines...