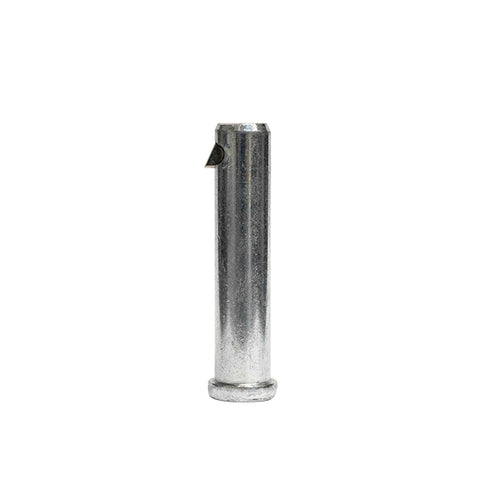 Buck Pin - 223892R
SKU:
223892R
Description:
The Buck Pin is a SLIC Pin specifically customized to fit our Ox clevis top. The advantage of the Buck Pin is that it allows the user to add or remove accessories more quickly and easily than the shoulder bolt does.
*Usually ships in 7 to 14 days.
How it is used:
Push the pin in through the holes in the Ox clevis top so that it is all the way through and latched.
To open the clevis, depress the plunger either with a finger or a small tool like a flat head screwdriver. Even a ballpoint pen would work. With the plunger held open, slide the pin back out through one hole.
The plunger will catch at the other hole, keeping it from falling out. To completely remove the pin from the clevis repeat depressing the plunger and sliding the pin out. To close the clevis again, slide the pin back through both holes until it latches.
Ox Block Buck Pin Instructions

Buck Pin Retro-Fit Instructions
Product Specifications
| | |
| --- | --- |
| Product Number | 223892R |
| Product Name | Buck Pin |
| Effective Length (between head and plunger) | 1.85" |
| Overall Length | 2.4" |
| Diameter | 1/2" |
| Weight | 2.1 oz |
| Material | Zinc Plated Alloy Steel |
| For Use W/ | Ox Block w/ Clevis Top |
| Standards | Pin itself not tested to a standard. Tensile tested in the Ox clevis to our 10,000 lbf MBS for the Ox Block. |
| Made in the USA | Yes |
Best Sellers
Buckingham's newly designed, patented bucket hook ca...

The Buckingham Economy Linemen Kit was designed for ...
*Orders received by 12:00/Noon EST ship same busines...