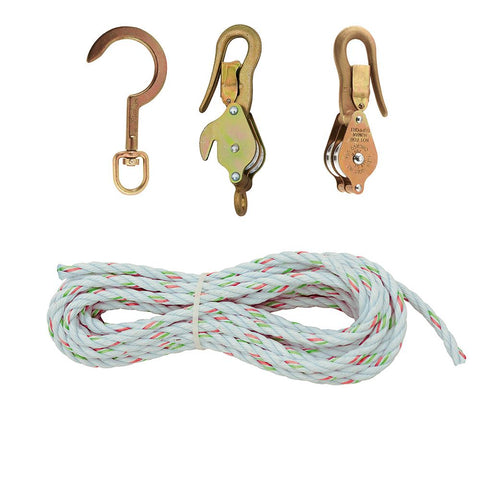 Klein Block and Tackle, H268 Block (94-H1802-30S)
SKU:
94-H1802-30S
Description:
*Usually ships within 7 to 14 days.
These are NOT occupational protective hooks. NOT for human support.
Light, galvanized-steel shell blocks are fitted with snubbing hooks to hold the load.
Sheaves are strong yet lightweight aluminum alloy with all-bronze bushings.
Available with standard snap hooks or guarded snap hooks (with snap hook nose lengthened to extend over the latch or keeper).
Choice of forged hook Cat. No. 258 or swivel hook Cat. No. 259.
All Klein block and tackle use high-quality, 3/8 (10 mm) diameter rope.
25 ft (7.62 m) rope length.
Hooks fit under insulator and engage pin on cross arm.
Maximum safe load is 750 lbs. (340 kg).
Product Specifications
Overall Length: 12.33
Overall Height: 4.41
Overall Width: 4.5
Material: Galvanized-Steel Shell Blocks, Aluminum Alloy Bushings, Nylon Rope 
Hook Type: Guarded
Rope Material: Nylon 
Rope Diameter: 3/8" (9.53mm)
Rope Length: 25'
Maximum Safe Load: 750 lb (340 kg)
Weight: 3.0 lb
Best Sellers
Buckingham's newly designed, patented bucket hook ca...

The Buckingham Economy Linemen Kit was designed for ...
*Orders received by 12:00/Noon EST ship same busines...