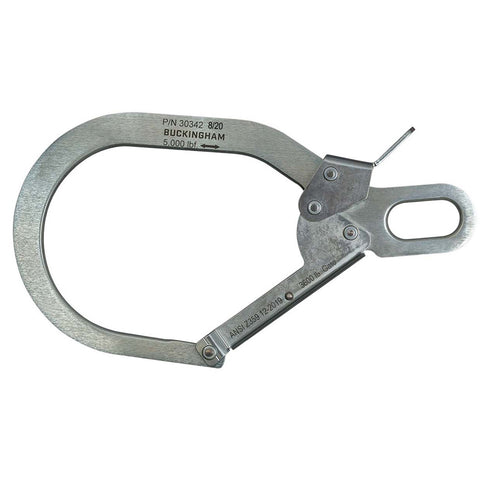 BIG BUCKSNAP™ – 30342
SKU:
30342
Description:
The big BuckSnap™ has been redesigned for easier use and now features a larger opening that allows the user to easily connect over a 4" angle iron.
*Orders received by 12:00/Noon EST ship same business day. After 12:00/Noon EST ship next business day.
The design of this pelican hook "shepherds hook" allows for ease of detachment. A radius (rounded) inner edge is designed to prevent damage to conductors, aluminum included when used in hot work applications. It also has a radius attachment eye to prevent damage to aluminum connectors. 
Hook meets ANSI Z359.12-2019 standards.

Product Number:
30342
Option Number:
H
Weight:
2.35 lbs
Length:
13" (330mm)
Width:
5.67" (144mm)
Material:
Steel
Diameter of Eye:
15/16" (24mm) eye (ID)
Gate Opening Capacity:
4" (101mm)
Gate Strength:
3600 lbs
Breaking Strength:
5000 lbs
Standards Met:

 

ANSI Z359.12-2019

 

Other:
Big Buck Snap
Big BuckSnap™ Instructions & Warnings
Buckyard Instructions & Warnings
Buck Arrest™/ BuckStop Instructions and Warnings
Best Sellers
Buckingham's newly designed, patented bucket hook ca...

The Buckingham Economy Linemen Kit was designed for ...
*Orders received by 12:00/Noon EST ship same busines...